05 Aug

Teachers Credit Union – Westfield IN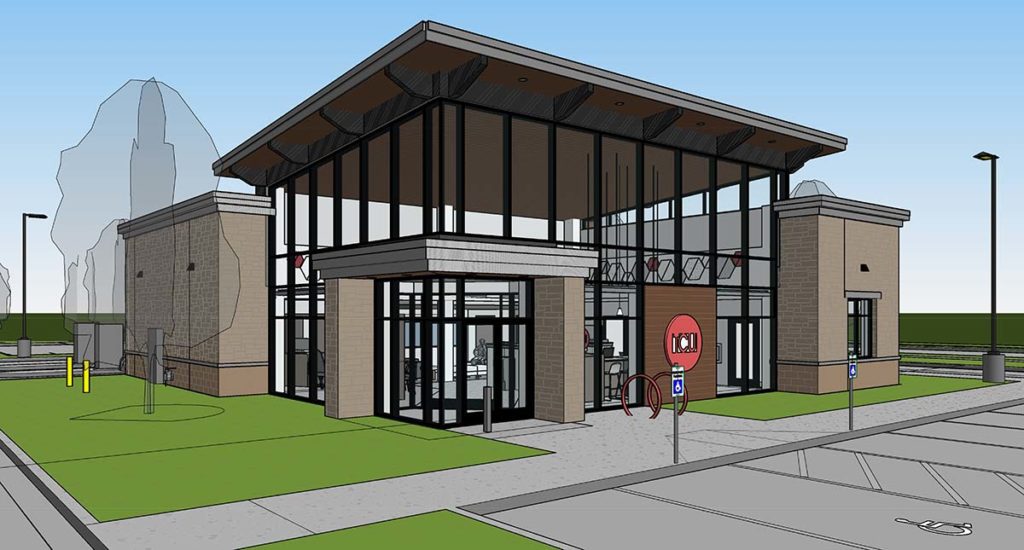 Teachers Credit Union was looking to expand its presence in the Westfield, IN community, which has recently grown both residentially and commercially. This will be the first ground up branch built to utilize the prototype designed by The Redmond Company for TCU. With having the facility be the first in the new Spring Mill Centre development, close communication with the developer was essential. With ease, Redmond worked through real estate purchasing, design, and local approvals to accelerate the process for construction that will start in the Fall of 2022.
Redmond saved TCU time and energy with fluid communication and clearly determined objectives for both parties. Modifications were implemented due to Westfield's specific design requirements, including the use of additional masonry materials, a taller roof structure, and slight modifications to the overall footprint of the building.
The prototype will exude a very "welcoming" presence. With a mix of stone, faux wood siding, and glass, it will lead you to a space that will immediately invite you in. Multiple seating arrangements will be available for members including a comfortable lounge area, a tech bar that features tablets for member interaction, as well as a cozy, customized coffee station to enhance their member experience.
The new branch will be providing Interactive Teller Machines (ITM) instead of your typical teller tube system that you usually see at your drive-thru. ITMs will also be placed within the building for members to use as a helpful resource when teller stations are occupied. In addition to the new ITM technology, large digital displays will be utilized in the branch to play local video and marketing communications to inform their members about present and future benefits of TCU.