15 Jun

Completion of Port Washington State Bank projects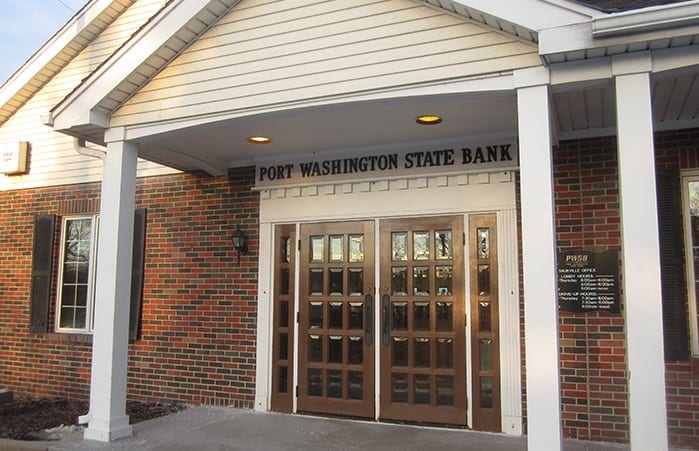 The Redmond Company is pleased to announce the recent completion of two projects for Port Washington State Bank in Belgium and Saukville, Wisconsin.
The Redmond Company was selected for design and construction for this long standing client's branch remodels.
Belgium's remodel included both interior and exterior renovations to an existing 50+ year old branch facility. Redmond will bring in some of Port Washington State Bank's branding elements. The exterior design replaces the dated storefront windows with energy efficient windows that are a better scale for a financial institution and incorporate a new base and sill at these locations. The building is accented with a new EIFS cornice with a new entry canopy in a design that is complementary to Port Washington State Bank's Cedarburg branch (which was also renovated by The Redmond Company). The drive up canopy also incorporates the new cornice design and a vertical EIFS pier clearly defines the extent of the bank's branch in relationship to the next door Post Office tenant. On the interior, Redmond has designed (2) new private offices, an updated teller line and waiting area with flat screen TV, an updated employee lounge, and new finishes to incorporate the bank's brand.
The goal of the Saukville project was to update the interior of Port Washington State Bank's branch to incorporate technology and create a more inviting lobby space, incorporating elements of Port Washington's brand. The design brings warmth into the lobby with a new stone fireplace surrounded by natural wood built-ins that highlight PWSB's marketing materials and PC tablets for customer use. A new comfortable, spacious waiting area is defined by new copper ceiling panels, a design feature from Port Washington State Bank's Cedarburg branch. A relocated teller line incorporates the warm copper-tone stone cladding and maximizes efficiency between the drive up functions and lobby tellers. New private offices, updated restrooms, and an updated employee lounge give the entire branch a warm, updated feel.