15 Jun

UFCU St. Joseph Ground Breaking Ceremony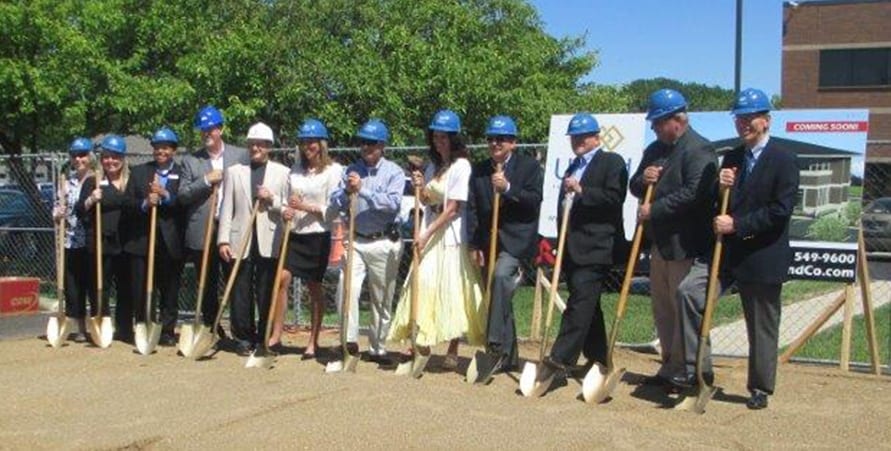 The Redmond Company is pleased to announce the recent ground breaking of a 9,800-square foot corporate banking center for United Federal Credit Union. The project is located at the existing main office site in St. Joseph, Michigan.
Utilizing the existing St. Joseph main office site, The Redmond Company designed a 2-story Corporate Banking Center for the United Federal Credit Union. The building will replace the existing branch with an expanded facility capable of meeting current member needs and desires. The soaring 2-story lobby incorporates glass walled offices and glass railings which flood the interior spaces with natural light and promote optimal visibility to the lobby from both the first and second floors. Amenities such as a coffee area, Wi-fi cafe and causal seating help to make the waiting area inviting. Warm branded interior colors, rich wood tones and natural stone accent walls blend to fashion an inviting, confident space. Directional signage, changeable lifestyle graphics and two 60" multi-media screens help keep the space intuitive, dynamic and flexible.
The exterior design goal was to ensure the new banking center building was sensitive to the exterior vernacular of the existing main office and the surrounding residential neighborhood; however, the overall exterior design needed to allow the building to stand on its own. The new building utilizes an abundance of glass, surrounded by brick and masonry walls capped with a gently sloped hip roof. These elements, in proper scale, meld to make an inviting, thoughtful and visually salient composition. Additionally, the building is set back on the site and surrounded by an abundance of landscaping further softening the overall visual presentation to South State Street.
This is Redmond's fourth project with United Federal Credit Union.
United Federal Credit Union has served members since 1949 and has more than 120,000 members worldwide. It manages assets in excess of $1.57 billion. In addition to its nine branches in southwest Michigan, UFCU serves members through locations in Arkansas, Indiana, Michigan, Nevada, North Carolina, and Ohio.
Check out the completed United Federal Credit Union St. Joseph branch project!