25 Jul

Forward Bank Featured in Great Lakes Banker Magazine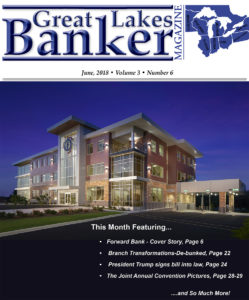 The Redmond Company's financial project, Forward Bank, has been featured in the June 2018 issue of Great Lakes Banker Magazine. We are pleased to share this project with you and honored to be part of building the future for another financial institution.
A few words from our client quoted in the article:
William Sennholz, CEO and President of Forward Bank, stated he couldn't be happier with the building or the entire design-build process, as "Redmond listened, shared their expertise, and led us through every step from site selection, brokerage, and design to completion of the project." Sennholz said, "The Redmond Company helped us build for our future and we now have a new building unlike any other in the area, where we can approach our business in a way that's not only operationally efficient and based on our purpose, but is thoroughly appreciated by our customers and employees. Redmond really helped us achieve our vision and were the perfect partner for us on this extraordinary project. I would highly recommend them to anyone looking to build a main office of the future."
Like the article shares – The master planning and architectural design strategies of today's main offices can be a complex and major endeavor for financial institutions of all sizes.  We understand that and Redmond's focus is to ensure our clients achieve their real estate and facility goals and desired customer experience objectives. Our approach is very much hands-on, leading projects from conceptual ideas through construction. Many factors can impact your business, from employee satisfaction and productivity to talent recruitment and retention, as well as competitive differentiation and customer experiences.
Check out the full article, Successful Main Office Uses Essential Design Elements, and learn more about this project.