07 Jun

Redmond Awarded AGC Safety Award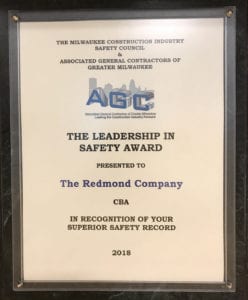 The Redmond Company was acknowledged by the Associated General Contractors  (AGC) with the Leadership in Safety Award in "recognition of your superior safety record" noted the AGC of Greater Milwaukee.
Ensuring the safety of our employees is of the utmost importance and a responsibility we take very seriously. Redmond is extremely proud to receive this award that recognizes our unwavering commitment to providing a safe work environment.