15 Oct

MidAmerica National Bank Groundbreaking for New Main Office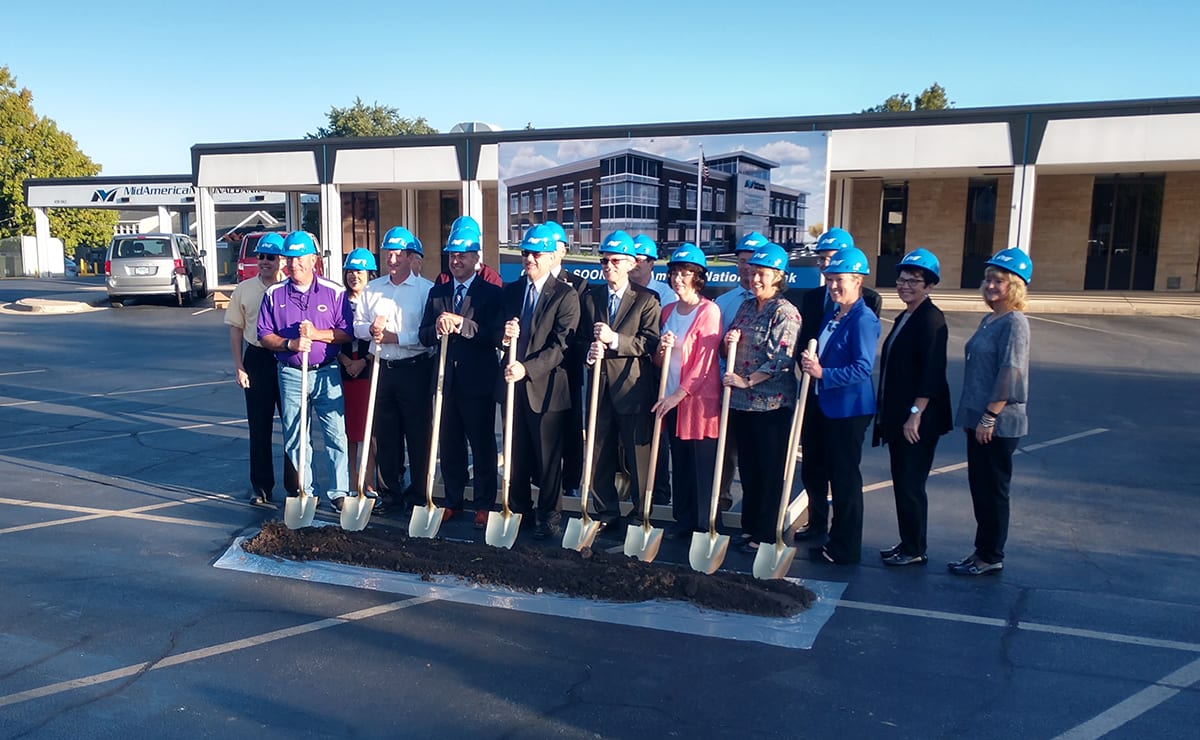 MidAmerica National Bank held it's groundbreaking ceremony on September 26, 2019 for their new 32,000-sf building. Redmond is honored to be their Design-Build Partner.
MidAmerica National Bank was looking for more operational space at their main office as well as updating their retail space with new technology and branding opportunities. Keeping our clients competitive in this ever-changing environment is a focal point that sets Redmond apart. Redmond's financial design team, industry leaders in rethinking the standard concepts of brick-and-mortar, designed a new state of the art facility on their existing lot that allows for continued operation at their existing facility throughout construction, and guided MidAmerica National Bank forward through the new trends and technology advancements in retail banking.
A welcoming two-story lobby with an open stair to the second floor is the key architectural detail that first draws in and greets customers and employees. The clerestory above the lobby allows natural lighting to flood the interior and provides a warm, inviting retail space. The clerestory also maximizes natural lighting into the interior workspaces that don't have direct access to perimeter windows. The exterior of the building is a modern twist on a traditional building.  The use of traditional brick with a traditional looking cornice is blended with the more modern metal panels and tall curtainwall windows. The use of solar shades reduce glare at interior spaces while adding interest to the exterior facade. The latest technology in the branch was incorporated to enhance the retail experience and allow tellers to become Universal Employees. As the bank moves away from the traditional model with teller stations and customer service representative desks, the new open-floor concept promotes greater interaction through the new Universal Employees who handle a greater variety of customer requests.
Site work began August 2019 and construction of the new building broke ground on September 26 2019. The new 32,000-sf building, which is adjacent to the existing facility, is scheduled to be completed Spring 2021. The existing building will be demolished after completion of the new main office.