12 May

Financial Facility Resources – COVID-19 Update

COVID-19 is changing consumer preferences and behaviors.  Future success will come to those financial institutions that understand the science of consumer preferences and behaviors combined with how COVID-19 is changing society and the way we interact.

The importance of personal interactions in business will continue.  However, in our current environment of fear, uncertainty, and health related concerns, we must have a clear understanding of how changing preferences and behaviors affect the design and layout of financial institution's interactive spaces.

Moving forward, branches and main offices must focus on new consumer and employee concerns.  Confidence must be restored to the financial environment in a safe, yet personalized manner for both consumers and employees.   Financial institutions that recognize this and modify their physical spaces will be rewarded with higher consumer and employee retention. This will also enable them to better serve their current stakeholders and enjoy greater future opportunities.

Designing the post COVID-19 facility means creating safe spaces that are adaptable to future business disruptions. This is key to the long-term success of your business.

A few of the ways COVID-19 is changing the financial institution landscape:
Finding the balance for consumers that require a safer environment with those that don't want change will be key
Consumers will increase their use of remote banking
Working remotely will be more common
Increased IT security will be needed for remote workers
Protection of personal spaces will be key
Consumers want greater flexibility and security
Transitioning to touchless environments will be common practice
Loyalty will be strongest to the institutions/brands that adapt and provide comfort to consumers and communities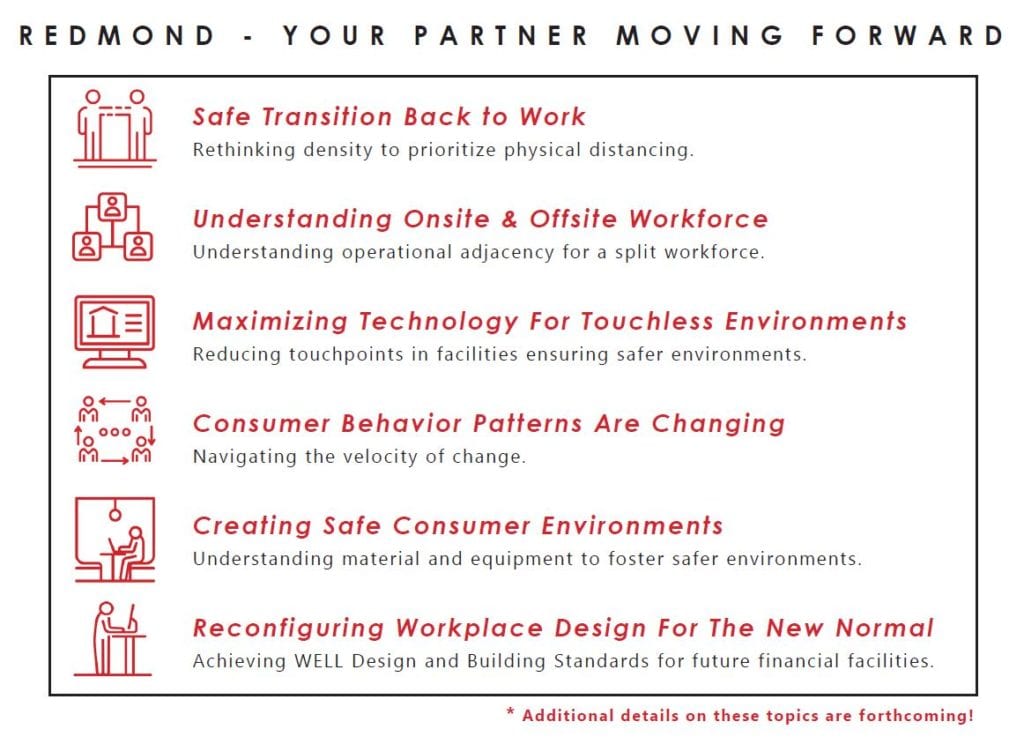 While the only constant in business is change, Redmond remains committed to partnering with our financial industry clients, as they move forward.  Our COVID-19 design solutions are based on vetted, science-based information, research and data received from nationally and globally recognized experts such as; CDC, OSHA, NCUA, HHS, FDIC, Financial Brand, AIA, World Health Organization and the WELL Institute for Design & Building Standards.  We collaborate with our clients, vendors and suppliers to provide the best design solutions for your financial institution.
Redmond has an extensive history of working with many of America's largest and most successful financial institutions and retailers. Understanding consumer preferences and behaviors has been a pillar of our business for 40+ years. This experience and expertise enables us to help our clients adapt and flourish in the post COVID-19 environment.
While these times present many challenges, they also present opportunities for financial institutions that understand the issues, and can adapt to the consumer and employees' changing needs.  We are here to help you with your critical facility decisions.  Contact us today to learn more.