05 Aug

Atlanta Postal Credit Union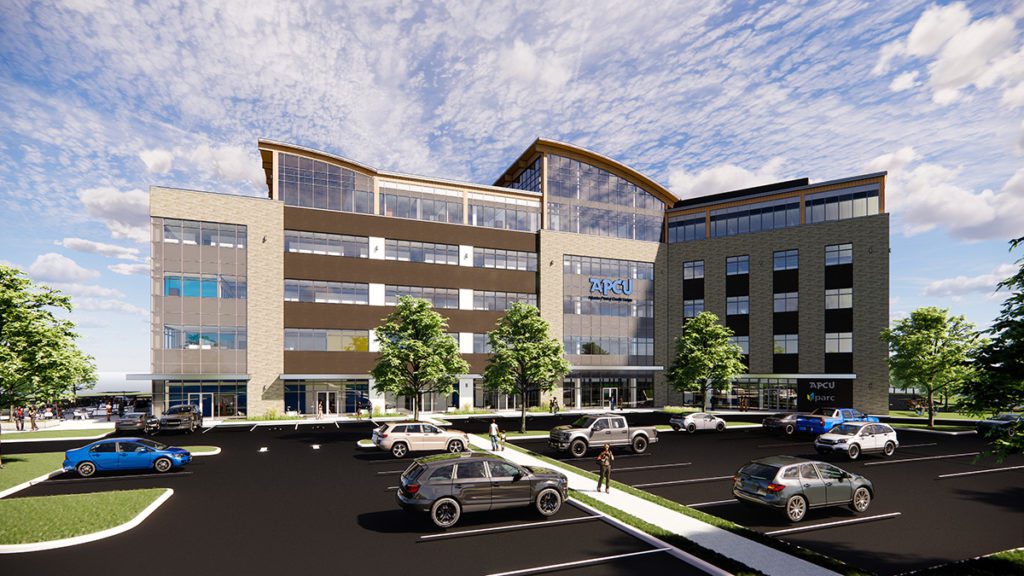 Atlanta Postal Credit Union (APCU) was growing out of its current administrative offices. After launching its new community-minded brand, Center Parc Credit Union, a division of APCU, in 2020, the Credit Union was looking to bring all operations staff under one roof with space for future growth to better serve members, community and staff.  APCU needed a team with knowledge and experience in both financial retail design and corporate office environments to execute a large headquarters project that will meet its future needs as well as its budget and schedule. The Redmond Company was selected to work with APCU on this new main office project located in Hapeville, GA.
Redmond's consulting and real estate team began working with APCU on site selection, brokerage and assisting in procurement, due diligence and planning, and zoning before purchasing the property. The new five-story facility will be on a 10.5-acre site, with the Porsche Experience Center Track as APCU's neighbor and the Hartfield International Airport close by, making this a truly unique site.  The exterior design of the building was selected to blend with the architecture of the adjacent Porsche Center North America (PCNA) headquarters building, hotel, and classic car restoration buildings, and with its use of heavy timber framing on the 5th floor, the design reflects the recent Center Parc flagship branch with curved timber structures highlighting the main entrance and executive board room.  A large 5th floor roof patio and 1st floor outdoor communal space overlook the PCNA track for APCU employees to enjoy over their lunch breaks and during social events.  Extensive glazing provides natural daylighting into office spaces, providing exterior views for all employees to promote health and wellness.
The new corporate headquarters will provide members with a full-service retail branch as well as ample operational space for APCU that accommodates future growth and embraces the changing work environment by offering flexible collaboration spaces, team rooms, and work café spaces for all employees, including work-from-home staff.  A large conference center on the main level can hold all-staff meetings as well as be utilized by the community for various events, and operable partition walls allow for the space to accommodate a large variety of meeting needs.  Remote drive-up Interactive ATMs provide 24-hr service to APCU and Center Parc members and growing community, and the site design accommodates recreational areas, space for food trucks, and a potential building addition in the future if needed.