08 Jun

Webb Hyundai Merrillville Grand Opening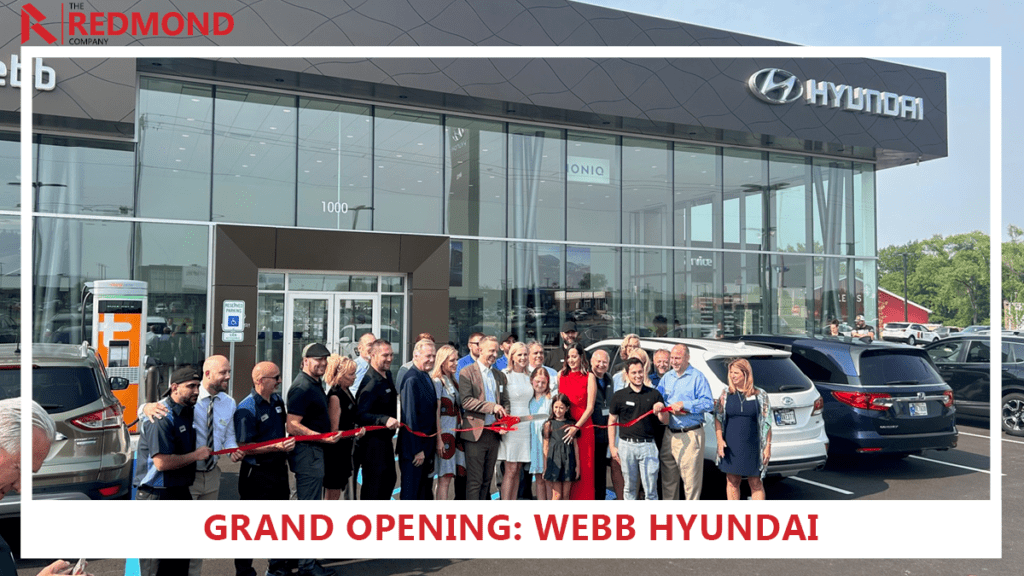 Congratulations Webb Auto Group on your grand opening!
Webb Auto Group is a trusted and growing auto dealership in Illinois and Indiana. As their reputation and success grows, so did the need to expand their Hyundai dealership in Merrillville. Wanting to create a space that would better serve their customers, the Webb team reached out to The Redmond Company to assist with real estate and the design/build that would ultimately double the size of the current dealership.
To improve visibility and give their large showroom a grand presence, Redmond assisted the Webb Auto Group to find and acquire property that is close in proximity to a busy highway. Redmond carefully took the time to review every detail of the building design to fit the vision and functionality of Webb Hyundai's requirements. Redmond aided the owner in the combination of two adjacent parcels into parcel so they property could be built on.  Redmond worked with utility companies and abandoned existing easements to create new ones that were allowed for the location of the new building.
Customer experience is key and as you walk into the new 30,000 sf dealership, you immediately feel a sense of tranquility. The facility is designed to create a connection to nature and includes sloped vertical columns in the showroom to mimic bamboo trunks and wavy shaped-exterior aluminum cladding panels that reflect the shape of clouds. Natural wood finishes and a warm color palette envelope the interior, which will include modern furniture, customer lounges, digital kiosks, and customer workstations. Unique ceiling and floor finishes will complete the cool, natural vibe.
Attention to detail has also been taken to the exterior. Aluminum cladding panels are shaped to mirror clouds to create a continuous connection to nature and as more vehicles become electrified, the electric service was designed to allow for future expansion along with the infostructure to provide additional chargers in the future. In order to increase the buildings visibility on the busy highway, attention was given to its location on the property to improve sightlines from speedy vehicles and the building height was also taken into consideration to give it a grander presence.
Hyundai required work to begin earlier than scheduled for the dealership to take advantage of the Global Dealership Space Identity (GDSI) incentives. Redmond made it happen. Constant communication between the Redmond team and the owner has been key to keeping the project on track and on budget throughout the process.
Webb Hyundai's new facility brings a clean and sophisticated element that enriches the customer's experience to a whole new level.